Cohort VI Application Details
Do you want to become a part of the Maryland Early Childhood Leadership Program's workforce initiative focused on filling the early childhood leadership gap in Maryland? MECLP develops and supports strong leaders who will generate positive change in communities by improving school readiness and related outcomes for early learners, particularly disadvantaged and vulnerable children. MECLP is not just a course.  It is building a community of people with long-term relationships and commitments to personal growth and change leadership.
Applications to become a member of MECLP's Cohort VI will be available in Spring 2024. Please check back in if you're interested. 
---
Exciting News!
Maryland Early Childhood Leadership Program (MECLP
) is now a part of the
Shriver Center/Division of Professional Studies
at UMBC. The Shriver Center is a hospitable home for MECLP as the goals and missions are compatible. The Center addresses critical social challenges by bridging campus and community through engaged scholarship and applied learning, positioning the Center as a national leader in applied learning, community engagement, and community-based service delivery. With the addition of MECLP, the expanded Center is poised to provide a transformational change from early childhood education through graduate school – an aligned continuum.
On May 4th, MECLP announced its 2023 Leadership Institute with Dr. Aaliyah Samuel for 'Leading for a Hopeful Future'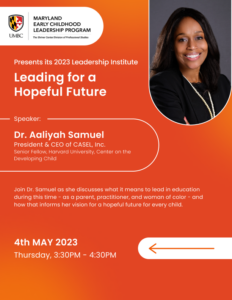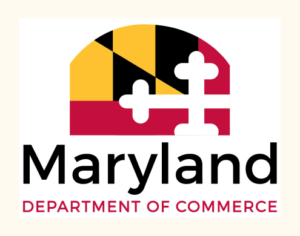 The Maryland Department of Commerce announced that applications are now open for the Child Care Capital Support Revolving Loan Fund, passed during the most recent General Assembly session. The fund will partner with the Maryland State Department of Education (MSDE) and provide no-interest loans for capital expenses to licensed childcare providers who participate in MSDE's Child Care Scholarship Program. Applications will be accepted through October 31, 2022. For more information and to apply online, click here.
---
Place Matters: A New Working Paper from the Center on the Developing Child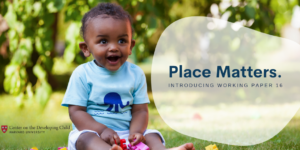 Read the complete Newsletter here.