MECLP Fall 2023 Webinar Series
Restarting & Recovering: The Future of Early Childhood in Maryland
Join our MECLP Fall Webinar Series for a transformative journey into the future of early childhood education in Maryland! In this series, you'll explore vital topics, from stabilizing the early education workforce to fostering equitable family-school partnerships. Don't miss the chance to be a part of the solution and make a lasting impact. Register now and join us in shaping a brighter future for Maryland's young learners!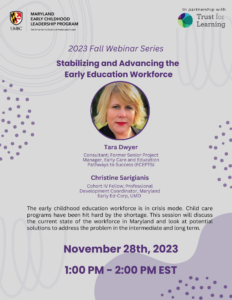 Webinar #1 – Stabilizing and Advancing the Early Education Workforce
Tuesday, November 28th – 1:00 pm to 2:00 pm EST
The early childhood education workforce is in crisis mode. Childcare programs have been hit hard by the shortage. This session will discuss the current state of the workforce in Maryland and look at potential solutions to address the problem in the intermediate and long term.
Speaker: 
Tara Dwyer,

Consultant; Former Senior Project Manager, Early Care and Education Pathways to Success (ECEPTS)

Christine Sarigianis,

Cohort IV Fellow; Professional Development Coordinator, Maryland Early Ed-Corp, UMD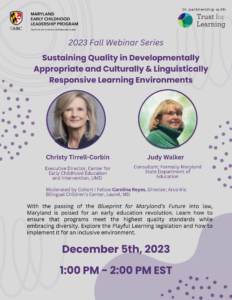 Webinar #2 – Sustaining Quality in Developmentally Appropriate and Culturally & Linguistically Responsive Learning Environments
Tuesday, December 5th – 1:00 pm to 2:00 pm EST
With the passing of the Blueprint for Maryland's Future into law, Maryland is poised for an early education revolution. Learn how to ensure that programs meet the highest quality standards while embracing diversity. Explore the Playful Learning legislation and how to implement it for an inclusive environment.
Speaker: 
Christy Tirrell-Corbin

,

Executive Director; Center for Early Childhood Education and Intervention, UMD

Judy Walker

,

Consultant; Formally Maryland State Department of Education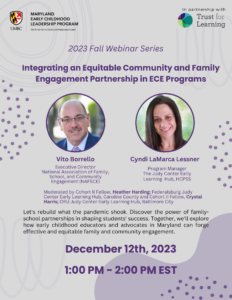 Webinar #3 – Integrating an Equitable Community and Family Engagement Partnership in ECE Programs
Tuesday, December 12th – 1:00 pm to 2:00 pm EST
Let's rebuild what the pandemic shook. Discover the power of family-school partnerships in shaping students' success. Together, we'll explore how early childhood educators and advocates in Maryland can forge effective and equitable family and community engagement.
Speakers: 
Vito Borrello, Executive Director; National Association of Family, School, and Community Engagement (NAFSCE)
Cyndi LaMarca, Program Manager; The Judith P. Hoyer Early Care and Education Program, HCPS
---
MECLP Fellows Spring 2023 Webinar Series
Creating More Equity for Young Learners

The Maryland Early Childhood Leadership Program's (MECLP) Spring Webinar Series is focused on Equity and Policy Issues in Early Childhood Education with State and National Leaders.
The MECLP Webinar Series is funded by the Trust for Learning, which believes that every child has unlimited potential, and ideal early learning environments unleash it.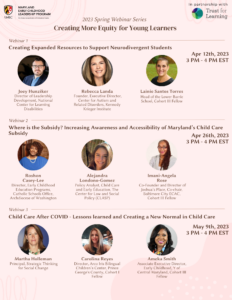 MECLP Spring Webinar Series flyer
Webinar #1 – Creating Expanded Resources to Support Neurodivergent Students
Wednesday, April 12th – 3:00 pm to 4:00 pm EST
Young children are being diagnosed with learning differences at a much higher rate than ever, but teacher training has not changed to meet this demand. To some degree, the public school system is also not equipped to handle children with these needs. Many teachers are often left to their own devices to achieve promising practices in their classrooms. There is a critical need to develop ways to assist these teachers so that they can, in turn, help the youngest learners.
Speaker: 
Lainie Santos Torres,

Head of the Lower Barrie School, Cohort III Fellow

Joey Hunziker, Director of Leadership Development, National Center for Learning Disabilities
Rebecca Landa, Center for Autism and Related Disorders, Kennedy Krieger Institute
Webinar #2 – Where is the Subsidy? Increasing Awareness and Accessibility of Child Care Subsidy in Maryland
Wednesday, April 26th – 3:00 pm to 4:00 pm EST
Maryland's Child Care Scholarship Program currently serves only a relatively small percentage of families who are eligible for the program.  What are the barriers that families may face in accessing the Scholarship Program? What outreach strategies could be used to increase the awareness among families to the Program and to know how to find one of high quality.
Speaker: 
Roshon Casey-Lee, Director of Early Childhood Education Programs at Catholic Schools Office Archdiocese of Washington
Alejandra Londono-Gomez, Policy Analyst, Child Care and Early Education, The Center for Law and Social Policy (CLASP)
Imani-Angela Rose, Co-Founder and Director of Joshua's Place
Webinar #3 – Child Care After COVID – Lessons Learned and Creating a New Normal in Child Care
Tuesday, May 9th – 3:00 pm to 4:00 pm EST
The webinar presentation can be found here
In 2021, the Abell Foundation released a report, authored by Martha Holleman about the impact that the pandemic had on child care in Maryland.  This session will provide an overview of the report and updates since the report was published.  It will also feature two MECLP fellows who are leaders in child care in Maryland to talk about their impressions and lessons learned from the challenges and opportunities brought by the pandemic.
Speakers: 
Martha Holleman, Principal, Strategic Thinking for Social Change
Carolina Reyes, Director Arco Iris Bilingual Children's Center
Ameka Smith, Associate Executive Director, Early Childhood, Y at Central Maryland
---
MECLP Fellows Fall 2022 Webinar Series
Becoming a Leader in Early Childhood Education at the Time of Equity
The Maryland Early Childhood Leadership Program's (MECLP) Fall Webinar Series focused on equity and how the equity debate has changed the policy and practice of early childhood education. It was designed to connect MECLP fellows with national leaders to address issues that require an in-depth understanding of the problems of practice and how leaders address them. The webinars also provided opportunities for former and current MECLP fellows to facilitate conversations with national early childhood leaders.
The MECLP Webinar Series was funded by the Trust for Learning, which believes that every child has unlimited potential, and ideal early learning environments unleash it.
Webinar #1 – Becoming a Leader in Early Childhood Education at the Time of Equity
Thursday, October 27th – 2:30 pm EST
Maryland Early Childhood Leadership Program (MECLP) is excited to invite you to its first Fall Webinar Series, which is designed to provide opportunities for former and current MECLP fellows to facilitate conversations with leaders in early childhood education from around the country.  This webinar series will focus on equity and how the equity debate has changed the policy and practice in early childhood education.
Speakers: 
Dr. Brian Boyd, William C. Field Distinguished Professor of Education at the University of North Carolina, Chapel Hill. He (delete is) was also the Director of the Juniper Gardens Children's Project at the University of Kansas. As Director of a center rooted in community-based, applied research, he has been heavily engaged in research that involves the most vulnerable and often marginalized populations. His recent work has focused on how implicit bias and race issues affect the lives and outcomes of children of color, including those with disabilities.
Angielena Williams, Senior Project Manager of Early Care & Learning for the State of Indiana.  Until just recently, she was the Director of the early childhood education program at Martin University, where she is still an adjunct instructor.
Margo Ford, Director of PreK and Before/After School at the Alamance-Burlington School System's Early Learning Community in Graham, NC.
Moderators:
Rudi O'Keefe-Zelman, Regional Director at The Literacy Lab and MECLP Fellow
Dr. Rolf Grafwallner, Senior Advisor for MECLP
Webinar #2 – From Idea to Realization – The Story of How the Children's Equity Center was Built
Thursday, November 10th – 2:30 pm EST
The Children's Equity Project is an initiative at Arizona State University, and it is led in partnership with scholars from institutions across the United States, including Yale University, Georgetown University, Vanderbilt University, The Center for Racial Equity and Excellence, and the University of California Los Angeles, among many others.
The Children's Equity Center works at the intersection of research, practice, and policy and focuses on a range of equity issues in the early years and the early grades, including but not limited to disproportionate discipline, corporal punishment, and bias; immigration and young children; language policies and supporting dual language learners; inclusion of children with disabilities; maternal and child health disparities; and issues affecting children in tribal communities.
MECLP invited Shantel Meek, the Founder and Executive Director of the Children's Equity Center, to talk about her engagement in founding the Center and what type of services it provides to states, school districts, and non-profit organizations.
Speaker: 
Shantel Meek, professor of practice and the founding director of the Children's Equity Project (CEP) in the T. Denny School for Social and Family Dynamics at Arizona State University. Before founding the CEP, Shantel served in the Obama Administration as a senior policy advisor for early childhood development at the U.S. Department of Health and Human Services (HHS) and as a senior policy advisor for education in the Domestic Policy Council at the White House. Shantel also played a key role in President Obama's My Brother's Keeper Initiative, leading the initiative's early childhood federal policy component.
Moderators:
Crystal Harris, Coordinator of Judy Center Partnerships at Dorothy I. Height Elementary School in Baltimore City and MECLP Fellow.
Roshon Casey-Lee, Director of Early Childhood Programs at the Archdiocese of Washington Catholic Schools Office, supports their preschools and child care programs. She is a MECLP Cohort III Fellow.
Webinar #3 – Equity Lens on Early Education
Thursday, December 08th – 2:30 pm EST
For the past years, there has been a stronger emphasis on understanding and implementing equity in early childhood policy and practice.  Minorities and children from vulnerable groups are still disadvantaged when accessing high-quality early learning programs or receiving services that support their development. One of the keys to equity is removing barriers and increasing access to early childhood education resources crucial to mitigating early learning and development gaps. The challenges are many.  This session will feature one of the most outstanding researchers and experts in the field of equity and early childhood education.  In an interview with Professor Iheoma Iraku, we will learn about an equity framework that focuses on building the capacity for changing the conditions for young children and what everybody in the early childhood field can do to contribute toward that change.
Speaker: 
Moderators:
Alicia Cross, Asst. Director at the Child Care Center of the National Institute of National Standards and Technology (NIST) and a Cohort II fellow.
---
MECLP Fellows Spring 2022 Webinar Series
The Spring Webinar Series of the Maryland Early Childhood Leadership Program (MECLP) featured two fellows who completed the MECLP SHER 601 Leading for Change in Early Childhood Education course last year. Krista Respess and Alicia Cross introduced their innovative capstone projects and discussed them with state and national leaders.
Expanding Professional Learning Models in Early Childhood Education
Tuesday, May 10th – 3pm EST
The webinar presentation can be found here
This webinar focuses on new models of professional learning that provide increased opportunities for sustained learning and engagement among early childhood educators. Combined self-paced online learning and virtual and/or face to face workshops create hybrid course structures that can be offered collaboratively. To achieve this, new partnerships among training organizations will be explored to leverage organizational capacity and strengths to both produce and administer interactive online content and offer local peer to peer engagement.
Fellow: Krista Respass, Managing Director, Early Childhood Education Services, Maryland Public Television (MPT)
Panelists:
Brigid Cook, Hybrid Course Facilitator, Maryland Public Television
Nancy Goldberg, Early Childhood Educator and MPT Hybrid Course Participant
John Sessler, PBS KIDS Professional Learning Team
Adopting an Equity Lens in Early Childhood Education
Tuesday, May 24th – 3pm EST
The presentation from this webinar can be found here
Handouts from this webinar can be found here and here
Adopting an equity lens in Early Childhood Education is essential for those working, teaching, coaching, or mentoring those who work with children. This webinar will focus on the importance of adopting an equity lens in early childhood settings and explore the strategy of journaling as a way to better understand oneself and others. Through a self-reflective process, participants will become aware of their own implicit biases and understand where those biases took root. Only when an individual is willing to change can the self-reflective process begin. This introspective process works with participants to help them understand themselves, rather than trying to understand others, and works to understand their response to an individual or a situation.
Fellow: Alicia Cross, Assistant Director,Child Care Center for NIST CCC, Gaithersburg, MD
Panelists:
Meredith Callanan, former Senior Fellow, Advanced Leadership Initiative, Harvard University
Lynn Hall, Senior Early Childhood Equity Specialist, Mid-Atlantic Equity Consortium, Inc.
Jacky Howell, author and Early Childhood Education Consultant, Azspire, LLC
---
MECLP Fellows Summer 2021 Webinar Series
In an effort to elevate voices from the field and share their experiences as MECLP fellows, four Cohort I fellows moderated MECLP's first webinar series – Lifting the Voices From the Field to Bring Equity and Transformational Change in Early Education.
Having worked for many years in early childhood education, the four fellows joined state and national leaders for an urgent call to action to unify the fragmented early care and education system and ensure equitable access for all. Building on the research they had done during the leadership program, they focused on four critical areas in early education:
Advancing the Professional Identity and Capacity of Family Child Care Professionals Through Multiple Avenues 
July – August 2021
Watch the webinar here.
The number of family child care providers is decreasing creating a critical shortage of care in
many areas. This webinar will examine what it takes for family child care providers to view
themselves as small business owners, how the early care and education system/wider K-12
system can support them as well as the importance and need for a mixed delivery model
including shared services.
Fellow: Tiffany Jones, Owner Precious Moments Family Childcare, NAFCC Accredited, Level 6 Credentialed/Level 5 EXCELS Family Child Care Provider in Montgomery County
Panelists:
Sharon Friedman, Director, Montgomery Moving Forward
Ruby Daniels, President, Maryland State Family Child Care Association
Juliet Bromer, Principal Research Scientist, Erikson Institute
Charlene Marie Muhammad Head Start Program Manager Community Action Agency, Montgomery County
The Rebirth of Building Blocks Network: Supporting the Transition to Formal School
Watch the webinar here.
Transition for young children and families is known to be an emotional time. This upcoming
school year will present different waves of emotions due to health and safety concerns. This
webinar will focus on innovative practices for the transition of young learners to schools, stronger
school-community partnerships and a new engagement with families.
Fellow: Stephanie Geddie, Instructional Facilitator for Early Childhood Programs, Howard County Public Schools
Panelists:
Cynthia Lessner, Branch Chief, Collaboration and Program Improvement, Division of Early Childhood, Maryland State Department of Education
Olga Lloyde, Howard County Educator & Co-founder of Building Blocks Network Running Brook Elementary School
Tonya Fortune, Parent, Howard County Public Schools
Empowering Early Childhood Teachers to Achieve Higher Education
Watch the webinar here.
The issues effecting the early childhood education
workforce are complex. This webinar will examine
ways on how early care providers can access
pathways to higher education to become a valued
competent workforce.
Fellow: Carolina Reyes, Owner/Director of Arco Iris Bilingual Center in Prince George's County
Panelists:
Cecelia Alvarado, Professor Emeritus, University of the District of Columbia
Dr. Sonia Pruneda-Hernandez, SeniorDirector/Chair, Early Childhood Programs
Lucy Regio, Senior Advisor, Public Policy and Advocacy, National Association for the Education of Young Children
Creating Effective Systems: Building Interest for a P-3 Alignment in Maryland
Watch the webinar here.
In early education, policy and practice can be far
apart. This webinar will discuss ways to establish a
shared vision of high-quality, developmentally
based learning for young children in early learning
and elementary school settings across Maryland,
by aligning policies, research, and practices for
children, birth through third grade.
 Fellow: Christina Lopez, Early Childhood Instructional Resource Teacher for Pre-K classrooms, Prince George's County Public Schools
Panelists:
David Jacobson, Executive Director, First10, Education Development Center
June Reinecke, Early Learning Services Education Specialist, Minnesota Department of Education
Kristi Dominguez, Assistant Superintendent, Bellingham Public Schools, WA